Skip to main content
OnePort Programmer
Program Transceivers, CWDW-DWDM Transceivers,
DACs, and AOCs

The OnePort programmer from Approved Networks is conveniently small and portable with proprietary software that is both intuitive and easy-to-use. OnePort takes the complexity out of coding, whether programming a single transceiver or an entire batch.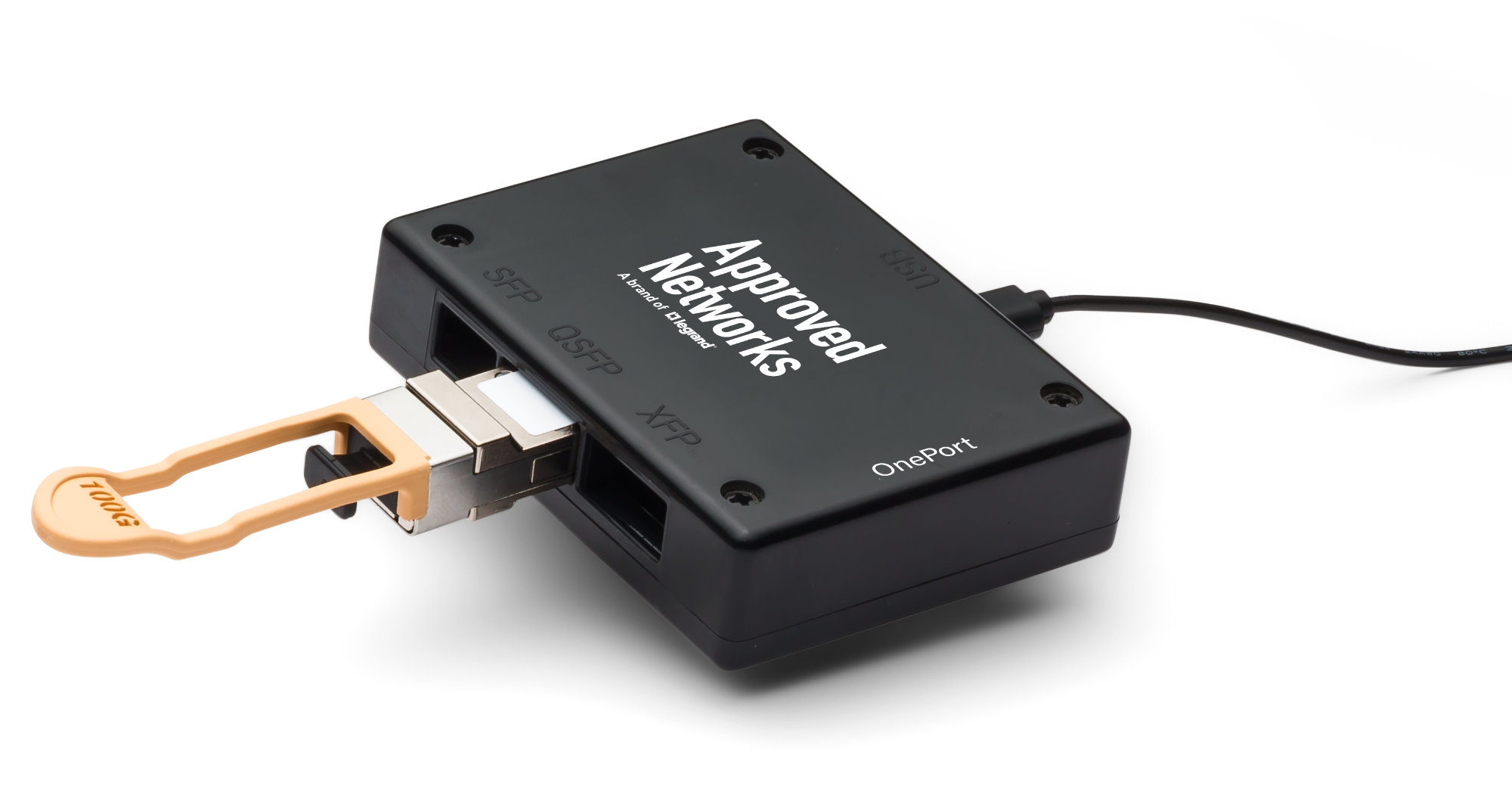 With the growing need for tunable and fixed channel 10G DWDM transceivers, the Approved Engineering and Product teams developed an application which allows customers to not only program 10G DWDM transceivers, but also tune them to a specific channel. This increase in demand for 10G DWDM transceivers has brought forth the need for our customers to have the ability to change the tunable transceiver platforms and the ability to tune themselves.
---
OnePort Saves Time and Money
Code/recode transceivers, DACs and AOCs for over 90 OEM systems and data rates from 1 to 100G
Multi-code DACs and AOCs for compatibility with multiple systems
Batch code OEM specific product with the same part number
Create favorite lists by OEM or part number
View technical information from any transceiver, DAC and AOC including:
Form Factor, Serial Number, Part Number, Wavelength, Distance and Compatibility
---
OnePort is Perfect for Any Environment
The OnePort programming box can be utilized in a multitude of different scenarios and environments to help engineers and field technicians do their job faster and more efficiently.
In the Field — Time is money. That is why the OnePort programming box is perfect for service provider field technicians. Imagine having less physical inventory on your truck and spending less time waiting for OEM coded products to arrive. OnePort adds a tunable ability in the field and on the fly.
In the Lab — The OnePort programmer is a highly efficient tool that was designed for lab personnel to verify compatibility in their test bed. This allows engineers to configure multiple OEM platforms without ordering new optical hardware.
In the Data Center — Whether in a cabinet, cage, or cloud, the OnePort provides our data center customers with invaluable ways to reduce their site-specific inventory costs while reducing downtime due to their port failures. Downtime can be reduced to minutes from hours, days, or even weeks, depending on global location and delivery schedules.
In Production — OnePort can batch code our products for rapid deployment to the field. OnePort also supports multi-vendor DAC and AOC programming, ensuring compatibility between switch, server, and security devices in multi-OEM environments.
In Remote Support — Approved expert technical support and engineering teams are here to help. OnePort provides engineers and technicians with additional support tools for their coding and compatibility needs.
---
OnePort Service and Support
Approved Networks provides the same industry-leading technical support and product warranty for all programmable OnePort (OP) tranceivers, DACs and AOCs as provided on all pre-programmed products. This includes our toll-free technical support and limited lifetime warranty.
OnePort Supports:
OPTICAL TRANSCEIVERS
SFP, SFP+, SFP28, XFP, QSFP, QSFP28
DWDM TUNABLE TRANSCEIVERS
10GB SFP+
ACTIVE OPTICAL CABLES (AOCs)
SFP+, SFP28, QSFP, QSFP28
DIRECT ATTACH COPPER (DACs)
SFP, SFP+, SFP28, QSFP, QSFP28
OnePort is a dynamic platform with the latest code downloaded on demand to provide the most up-to-date coding options and interface abilities. Windows® 10 (or later) and MacOS® 11.6 (or later) required.
Wavelength Tuning: 10G SFP+ DWDM C-band tunable
What's Included:
1. OnePort Programmer
2. OnePort Case
3. USB Cable
4. Cleaner Tool
OnePort Programmer
Supports the coding of Approved OnePort Transceivers, DACs and AOCs
---
Coding/Re-coding of Over 90 OEM Systems, including:
---
The Approved Networks Commitment to Compliance