Skip to main content
Tested. Trusted. Approved.
Quality is Never an Accident,
It is Always the Result of Intelligent Effort
Testing is the cornerstone of the Approved Networks commitment to our customers, and it goes far beyond mere Interoperability. Our 3-step process tests for functionality, optical compliance, and system compatibility, providing the most complete test model in the industry. Our decades of experience in high-speed optical networking verification allows the world's largest enterprises, data centers, and service providers to trust our test lab, utilizing it as an invaluable component of their certification process.
Functional, Performance and
Quality of Service Testing
Approved Networks certifies performance and functionality of all our transceivers, DACs and AOCs. Beginning with a rigorous supply chain qualification process, and continuing with preliminary, sampling and production throughput and compliance testing. Approved Networks Test Labs provide comprehensive testing up to 400G, including:
SFP, SFP+, SFP28, QSFP+, QSFP56, CFP, CFP2, CFP4, QSFP28, QSFP-DD, OSFP
BER Testing
Latency Validation Testing
Throughput Testing to IEEE 802.3bs Standard
RFC2544
ITU-TY.1564
Activation Testing
QoS Testing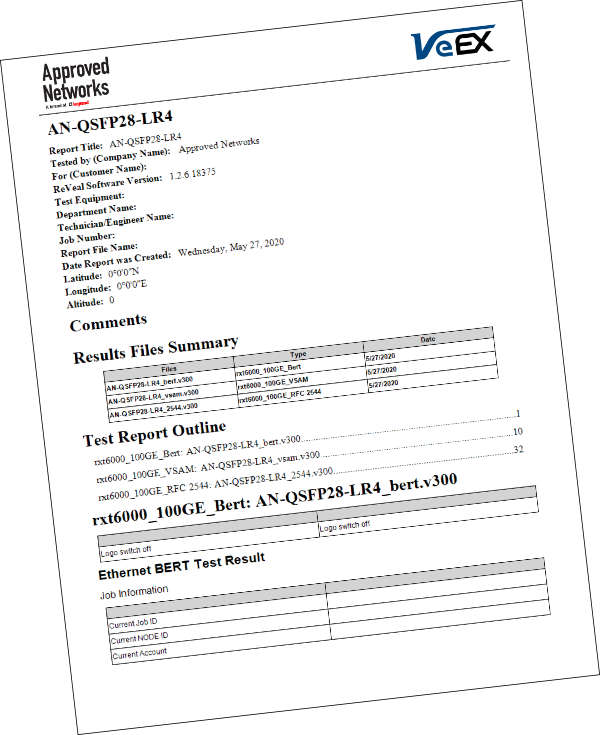 BER-VSAM-RFC2544
Report
Optical Compliance, Characterization
and Validation Testing
Our fully automated optical transmitter and receiver testing process supports optical transceiver characterization, supplier validation, failure analysis and pass/fail determination. This includes stringent compliance test reporting of:
Eye Diagram/Mask Margin
Eye Width, Eye Height, Rise/Fall Time
OMA/AOP/ER
VECP, TDEC
Eye Contour
Bathtub Curve
Rx Sensitivity Waterfall Curve: BER vs. ROP, BER vs. OMA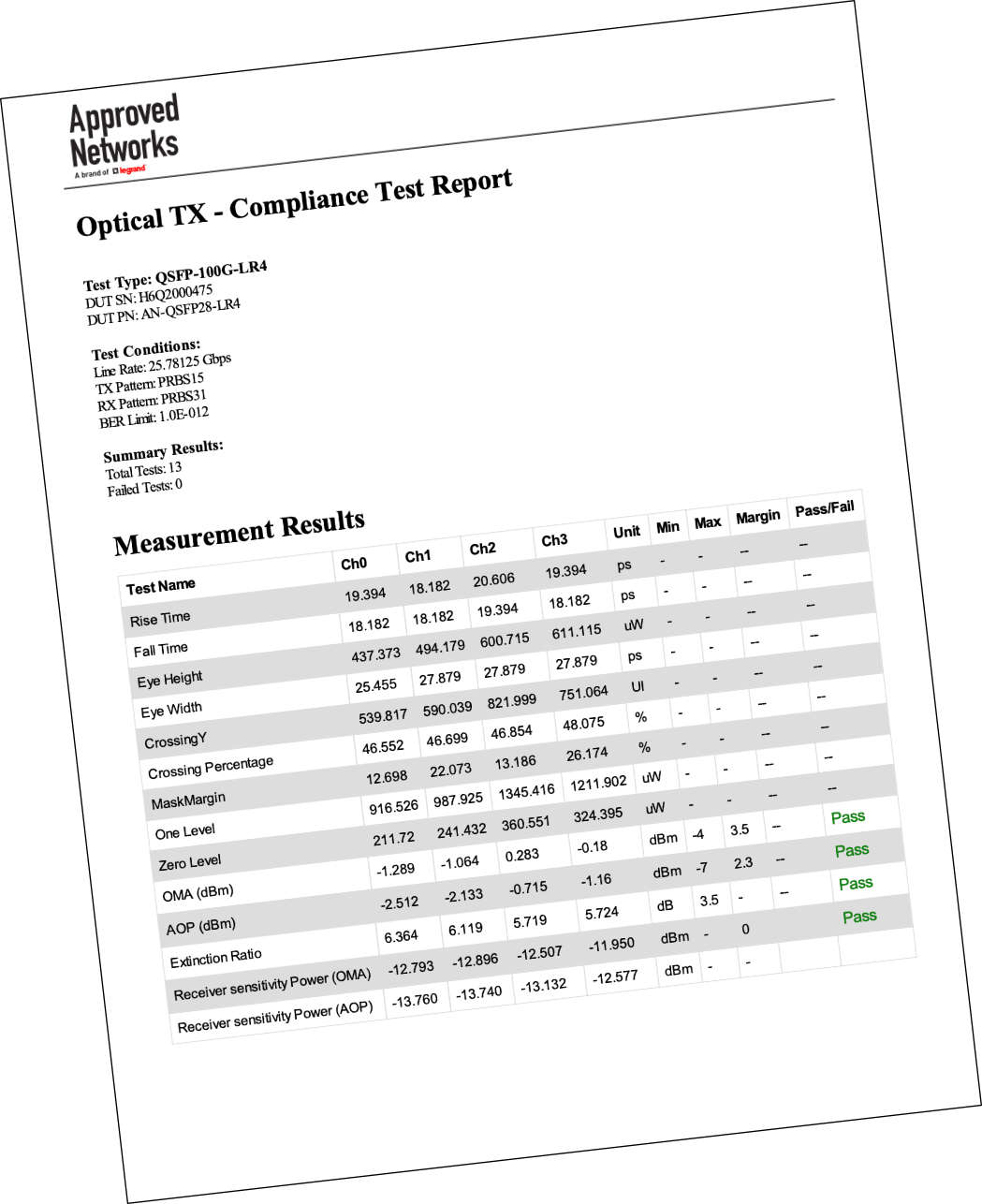 Optical Compliance
Report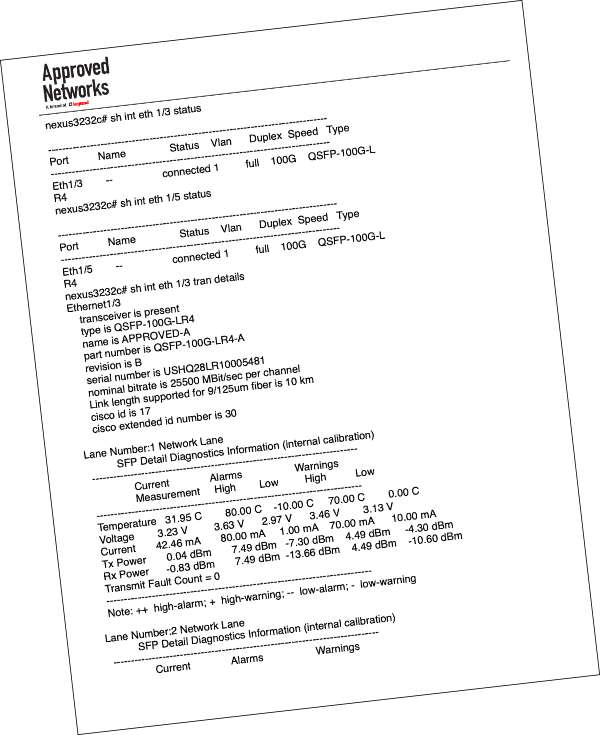 DDM 1 km
Report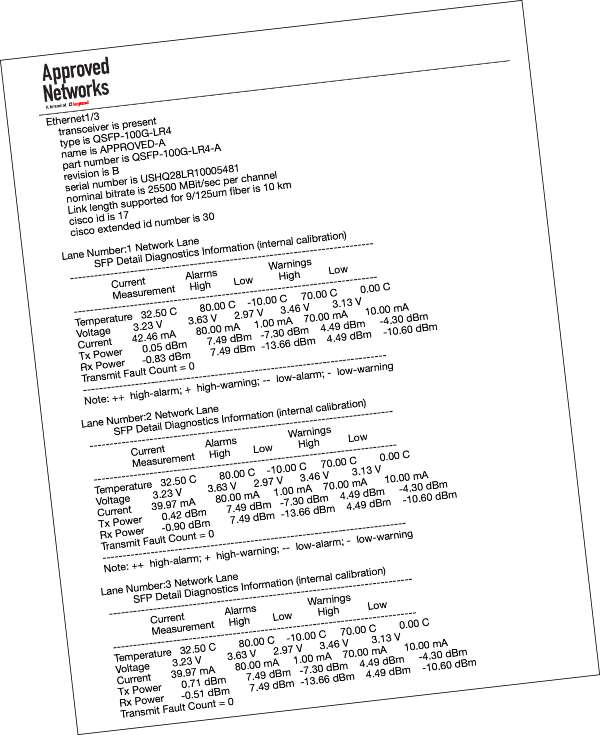 DDM 10 km
Report
Compatibility and Interoperability Testing
Our state-of-the-art programming and testing facilities host an active test bed of well over 100 servers, switches, routers and NICs. This allows us to confirm full OS and system compatibility and interoperability before shipment, reducing failures and incompatibility in the field.
The Approved Networks onsite development team programs and tests our product lines in almost every modern OEM system, providing unmatched customization, fault isolation and compatibility support using actual customer operating systems.
Our active test bed includes solutions from 100MB up to 400GB and includes systems from almost every major OEM, including: Accedian, Adtran, Adva, Avaya, Arista, Blade Networks, Broadcom, Brocade, Calix, Ciena, Cisco, Dell/Force10, Ericsson, Fujitsu, HPE, IBM, Intel, Juniper, Mellanox, Nokia/Alcatel, Nortel, Overture, Palo Alto, Qlogic and Zhone.
Don't have what you need, or are you looking for a technology the OEMs just don't support? We offer full-service customization for you to achieve your technology needs:
Multi-Coded Universal Transceivers
Multi-Vendor DACs, AOCs
Solutions Not Offered by an OEM
Extended Distance Capabilities
Private Label Solutions
Combining the test lab with an experienced optical engineering team provides our global customer base with full-service support, including:
Full-Service Technical Support Team
Experienced Networking and Optical Development Team
Geographically Located Field Engineers
Category Product Line Managers
Dedicated Carrier/Service Provider and Enterprise/Data Center Solutions Architects
Service Provider and Data Center specific Sales Engineers
Environmental Testing
The surge in data traffic by the consumer, and the emergence of the connected home (IoT) and 5G, have led to Approved Networks' optical transceivers being used in more diverse environments than ever. Because networking hardware ages and operates differently when exposed to extreme conditions, Approved Networks tests, confirms and certifies the reliability of our transceivers, DACs and AOCs in our environmental test chamber. That chamber validates the integrity of our components against degradation while it stresses the component in extreme heat and cold, humidity, and other external conditions.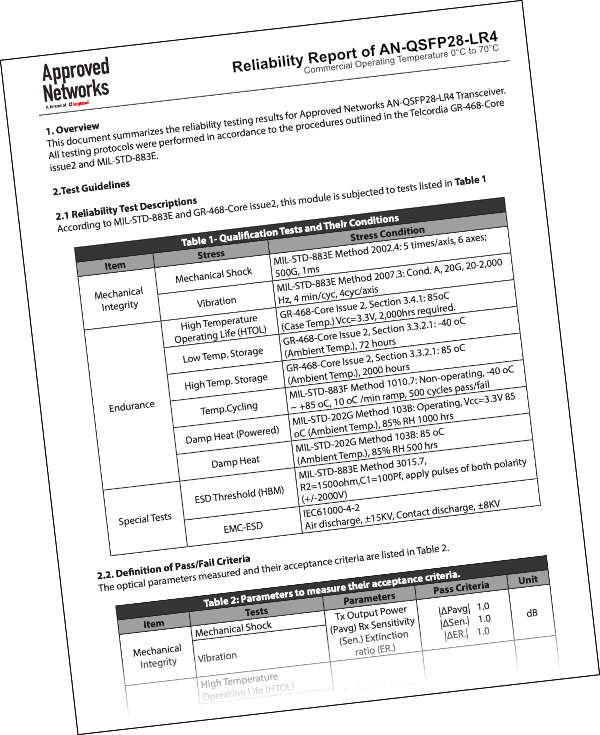 Reliability
Report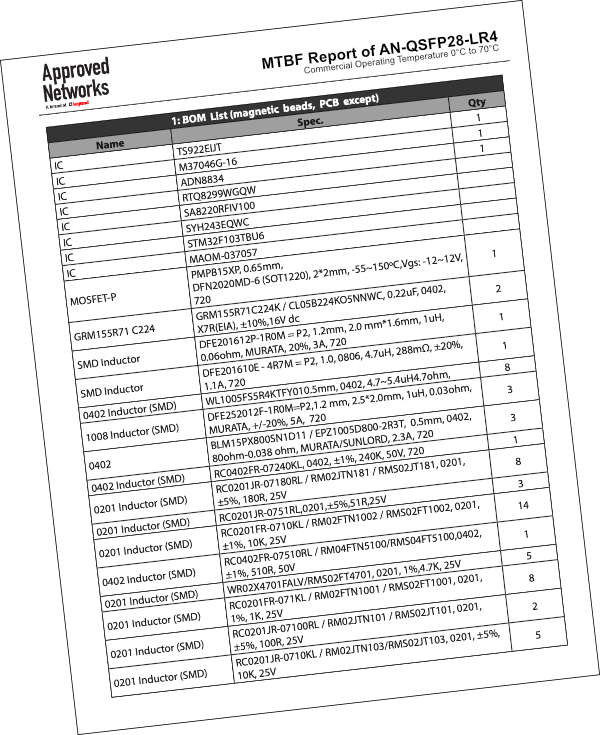 MTBF
Report
Quality Control System
The Approved Network's Quality Control System ensures accountability and reliability to our customers and our team members around the world by providing accurate and measurable quality analytics and actionable steps for improvement.
Our proprietary Serial Number Tracking software is embedded in our production software and documents every aspect of a product's life cycle by checking each step of our process: Serialization, Receiving, Staging, Programming, Testing, Labeling and Shipping.