Posted by Frank Yang on Sep 24, 2020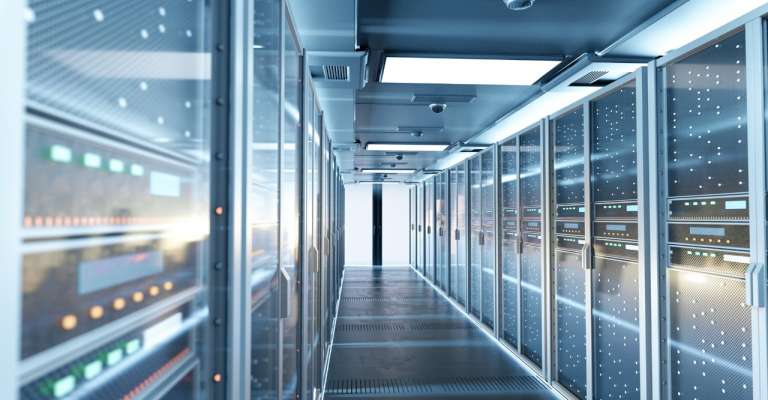 In our previous video, we explained how direct attach cables (or DACs) can help you reduce the cost of switch-to-switch and switch-to-server connections; making new connections faster and easier. But what if you need longer optical cables? What if you need to connect in a tight space where bulky copper cables won't fit? What if you need to eliminate electromagnetic interference on your cables? Champion ONE can help you with all these challenges.
The solution is Active Optical Cables (AOCs). Like our DACs, AOCs consist of two transceivers connected by a cable, giving you a plug and play solution that speeds up deployment and reduces the need for unnecessary troubleshooting, cleaning, and maintenance. Instead of plugging a separate cable into multiple optics, you only need one programmed and factory-tested part.
Multimode Fiber Cables
Unlike copper DACs, AOCs use multimode fiber cables which are thinner, lighter and have a tighter bend radius than the copper cables used in DACs. And while DACs top out at about 15 meters, multimode fiber AOCs can help you reach up to one hundred meters.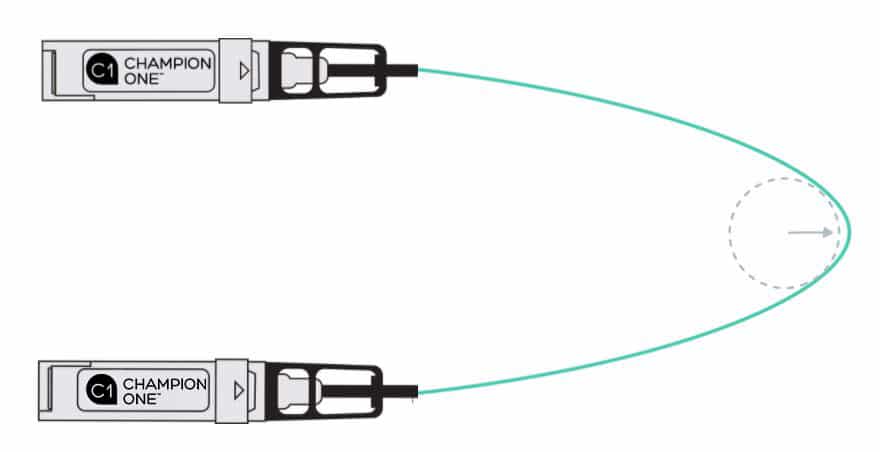 Low Power Consumption
AOCs also offer lower power consumption than traditional optics and structured fiber cabling, making them a cost-effective alternative — especially at lower data rates.
AOCs offer speeds from 10G, to 25G, all the way up to 400G in industry-standard form factors. These include SFP+, SFP28, QSFP+, QSFP+ Breakout, QSFP56, QSFP28, QSFP28 Breakout, and QSFP-DD.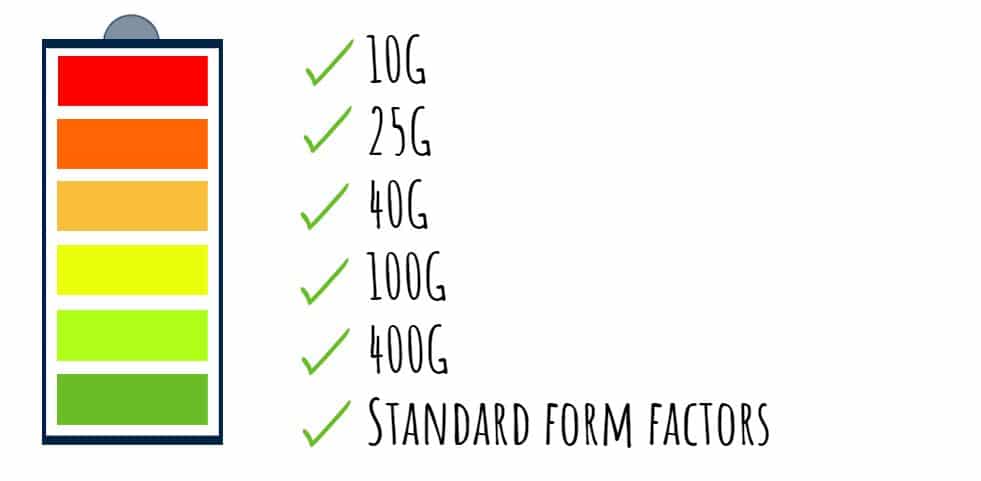 In-House Testing and Vendor Compatibility
Our AOCs are fully programmed and tested by experts in our extensive in-house lab to guarantee compatibility in your network environment. We offer a wide range of TAA-compliant AOCs, which are ideal for federal government networks.
Need guaranteed compatibility when connecting two different equipment manufacturers? No problem! Champion ONE has developed thousands of standard and custom programming configurations for multi-vendor compatibility that can be quickly ordered and delivered. For example, if you need to connect a Cisco switch to an Intel network interface card, or connect a Juniper switch to an HP server, we've got you covered.
For more information on our complete line of Active Optical Cables, call your Champion ONE Fiber Optic Connectivity Expert today at 866.850.0725.