Posted by Kevin Kearney on Jul 25, 2023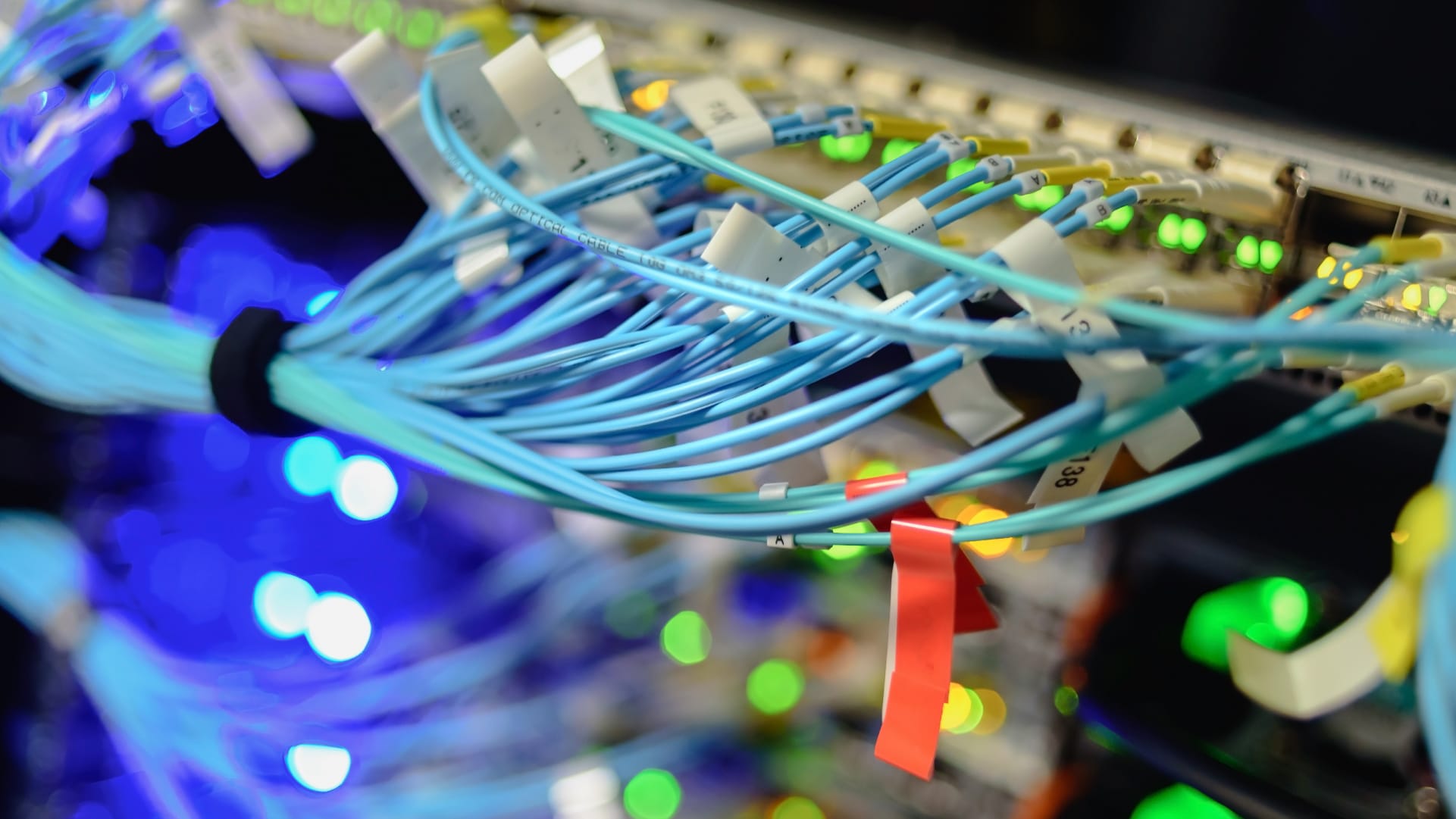 There are two different approaches to cabling in the data center, Point to Point and Structured Cabling. Let's take a closer look at each practice.
Point-to-Point Cabling
Point to Point cabling is just like it sounds. You install a cable between two network devices.
Today, the most common interfaces on Network Devices are variants of either the SFP(Small Form Factor Pluggable) or QSFP (Quad Small Form Factor Pluggable).
SFP(1G), SFP+(10G), SFP28(25G) Point-to-Point Solutions
Directly connecting a 2 Fiber Duplex LC cable to a couple of Optical Transceivers can simultaneously occur in both directions.

Direct Attach Passive Copper (DACs) are cost-effective for Point-to-Point connections in the same Rack. Think TOR (Top of Rack) Switch to Servers. As "Direct Attach Cable" implies, no transceivers are needed; they are built into the cable and directly plugged into the Network Devices at each end.
Point-to-Point connections utilize Active Optical Cables (AOCs) for End of Row, Middle of Row, or between rows.

QSFP+(40G), QSFP28(100G), Point-to-Point Solutions
By directly connecting an 8 Fiber MPO Cable to a couple of Optical Transceivers, communication can occur over 4 Pairs of fiber in both directions simultaneously. Multiple lanes @ 10Gbps, 25Gbps, or 50Gbps provide one way to realize more bandwidth, although these solutions require four pairs of fiber vs. 1 Pair.

Direct Attach Passive Copper cables (DACs) and Active Optical Cables (AOCs) are also available in the QSFP+(40G) and QSFP28(100G), QSFP56(200G) and QSFP-DD(400G) Form Factors.
Combining both MPO and LC Transceivers with a Breakout Cable is an excellent solution for aggregating 40G/100G Switch connections across four 10Gbps/25Gbps server or switch ports.

Breakout cables are also available in DAC and AOC versions for direct connections from 1 switch to 4 switches or servers.
Point-to-Point connections will work fine for a few connections over short distances, but this method becomes hard to manage as you continue adding more connections over longer distances. Patch Cords really are designed for short distances. These cables may get kinked or bent when routed through a cable tray. When you need to move or add cables or troubleshoot a problem, these individual cables can be challenging to identify from one another. Finally, too many cables running in the front or the back of the servers and switches can significantly reduce airflow, limiting the life of your network equipment.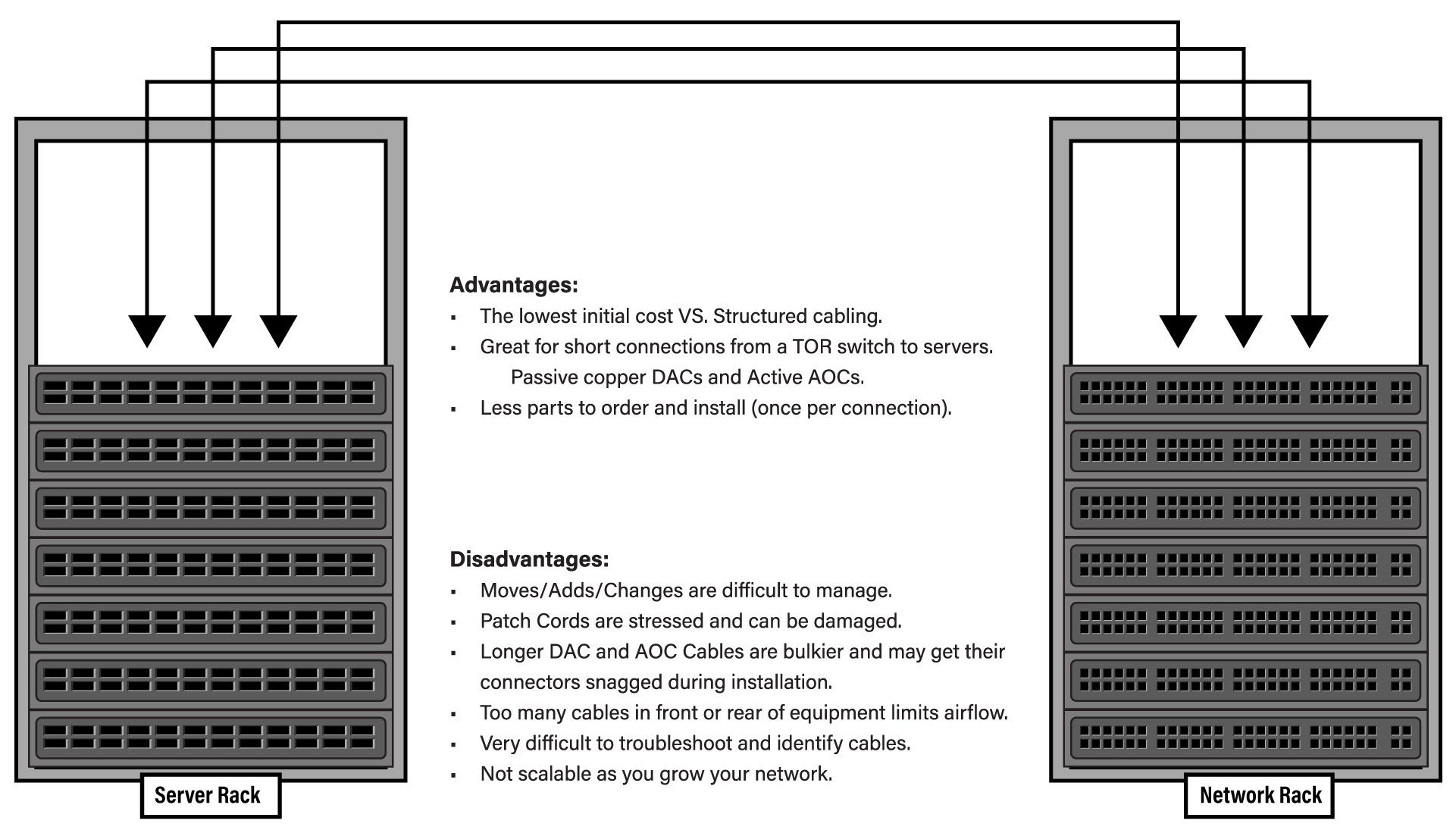 Too many Point-to-Point Fiber Cables can result in a jumbled mess of cables and, in the worst case, cause costly delays in installation or troubleshooting. Nobody has time for that!
Structured Cabling
So, what is Structured Cabling, and how is it different than Point-Point Cabling?
While Point-Point is just one Cable connecting directly between networked devices, Structured Cabling is an Industry Standards-based solution that organizes the cabling and connections into modular parts. See ANSI/TIA-568 and ANSI/TIA 942-B
A structured cabling system will provide consistent network performance when properly designed and installed. Structured cabling is flexible, allowing for quick and easy moves, adds, and changes to network connections. Everything is easily identified, reducing troubleshooting time considerably.
Let's look at an example and identify the components.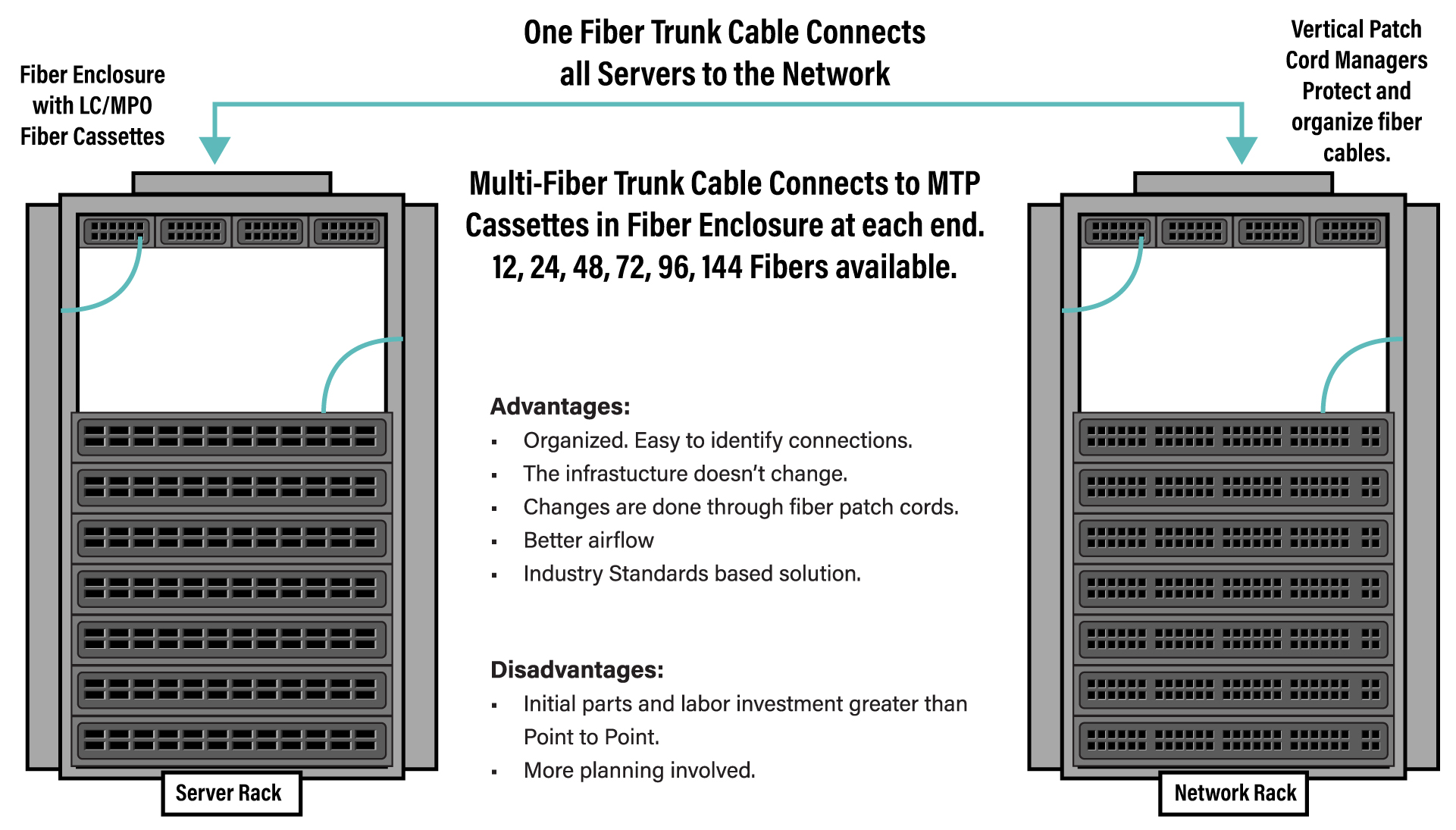 Legrand is committed to providing structured cabling and connectivity solutions, including Approved Networks transceivers. I'll wrap up this article with two innovative solutions that work together — Legrand's new Infinium acclAIM solution and Approved Networks' new 100GBase-SR4 MDC Transceiver.
The acclAIM solution features the VSFF (Very Small form Factor) USCONEC MDC™. (Mini Duplex Connector) The Approved Networks QSFP28--SR4-MDC transceiver works together with Infinium acclAIM to provide a low-loss, high-density solution with flexible breakouts for 100G-SR to 4 X25G-SR deployments.
Approved Networks is committed to keeping you connected.
Related Products
100GBASE-SR4 QSFP28 MDC MMF 850nm 100m DDM Transceiver
40GBASE QSFP+ Passive DAC Cable (QSFP+ to 4 x SFP+) Breakout Cable
40G QSFP+ AOC Cable (QSFP+ to 4 x SFP+) Breakout