Posted by Kati Miale on Oct 20, 2023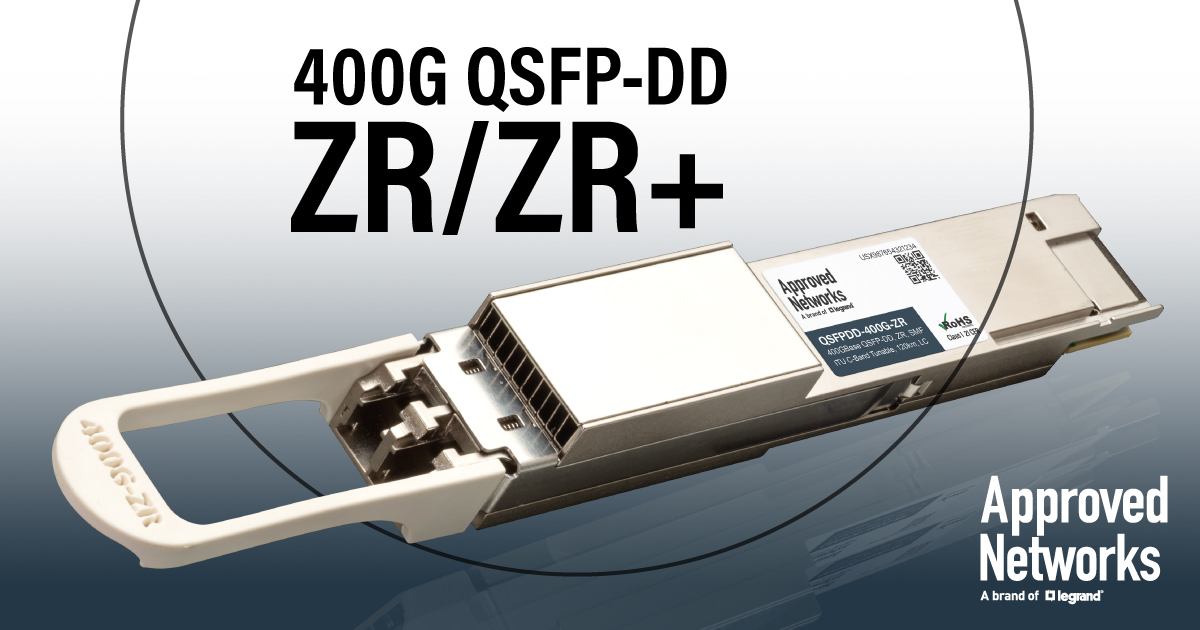 LAKE FOREST, Calif.--(BUSINESS WIRE)--In a groundbreaking advancement that redefines the limits of high-speed connectivity, Approved Networks, a brand of Legrand, a leading innovator in optical networking solutions, proudly announces the launch of its latest product, the 400G QSFP-DD ZR. This state-of-the-art transceiver module sets a new standard for data transmission across vast distances, catering to the ever-increasing demands of modern communication networks in data centers and broadband.
The 400G QSFP-DD ZR addresses challenges that require high-capacity, long-range connectivity solutions. With its impressive 400 Gbps data rate, this module provides unparalleled speed and efficiency, enabling seamless communication and data exchange over extended distances. Linking data centers, connecting remote offices, or bridging gaps between metropolitan areas, the 400G QSFP-DD ZR ensures a robust and reliable connection that meets the needs of today's data-driven world.
"We are thrilled to introduce the 400G QSFP-DD ZR to the market," said Brian Patton, VP of Engineering at Approved Networks. "As the demand for high-speed, long-range connectivity surges, our innovative solution empowers businesses to bridge geographical gaps, share data seamlessly, and unlock new possibilities in communication. The 400G QSFP-DD ZR exemplifies our dedication to pushing the boundaries of technology to drive progress and growth."
For more information about the 400G QSFP-DD ZR and Approved Networks' broad range of networking solutions, please visit www.approvednetworks.com.
About Legrand
Legrand is the global specialist in electrical and digital building infrastructures. Its comprehensive offering of solutions for commercial, industrial, and residential markets makes it a benchmark for customers worldwide. The Group harnesses technological and societal trends with lasting impacts on buildings with the purpose of improving life by transforming the spaces where people live, work and meet with electrical, digital infrastructures and connected solutions that are simple, innovative and sustainable. Drawing on an approach that involves all teams and stakeholders, Legrand is pursuing its strategy of profitable and responsible growth driven by acquisitions and innovation, with a steady flow of new offerings—including products with enhanced value in use (faster expanding segments: data centers, connected offerings and energy efficiency programs). Legrand reported sales of €8.0 billion in 2022. The company is listed on Euronext Paris and is notably a component stock of the CAC 40 and CAC 40 ESG indexes. (code ISIN FR0010307819).
About Approved Networks
Approved Networks is a proud brand of Legrand in the Data, Power, and Control Division. We have provided cost-effective, high-performance optical solutions to a global network of Fortune 500 Enterprise, Data Center, and Service Provider partners for 30 years. Approved earned our reputation as the industry authority on OEM alternative optical networking connectivity through a commitment to technical engineering, stringent quality standards, extensive testing capabilities, and dedicated customer service and support – before, during, and after deployment. Over 10,000 customers in more than 40 countries trust Approved Networks' transceivers, DACs, AOCs, and passive solutions to light their networks. We do this on time and on budget with an unwavering focus on quality and reliability.
For additional information about the new 400G QSFP-DD ZR, reach out to us at marketing@approvednetworks.com.