Posted by Frank Yang on Nov 11, 2022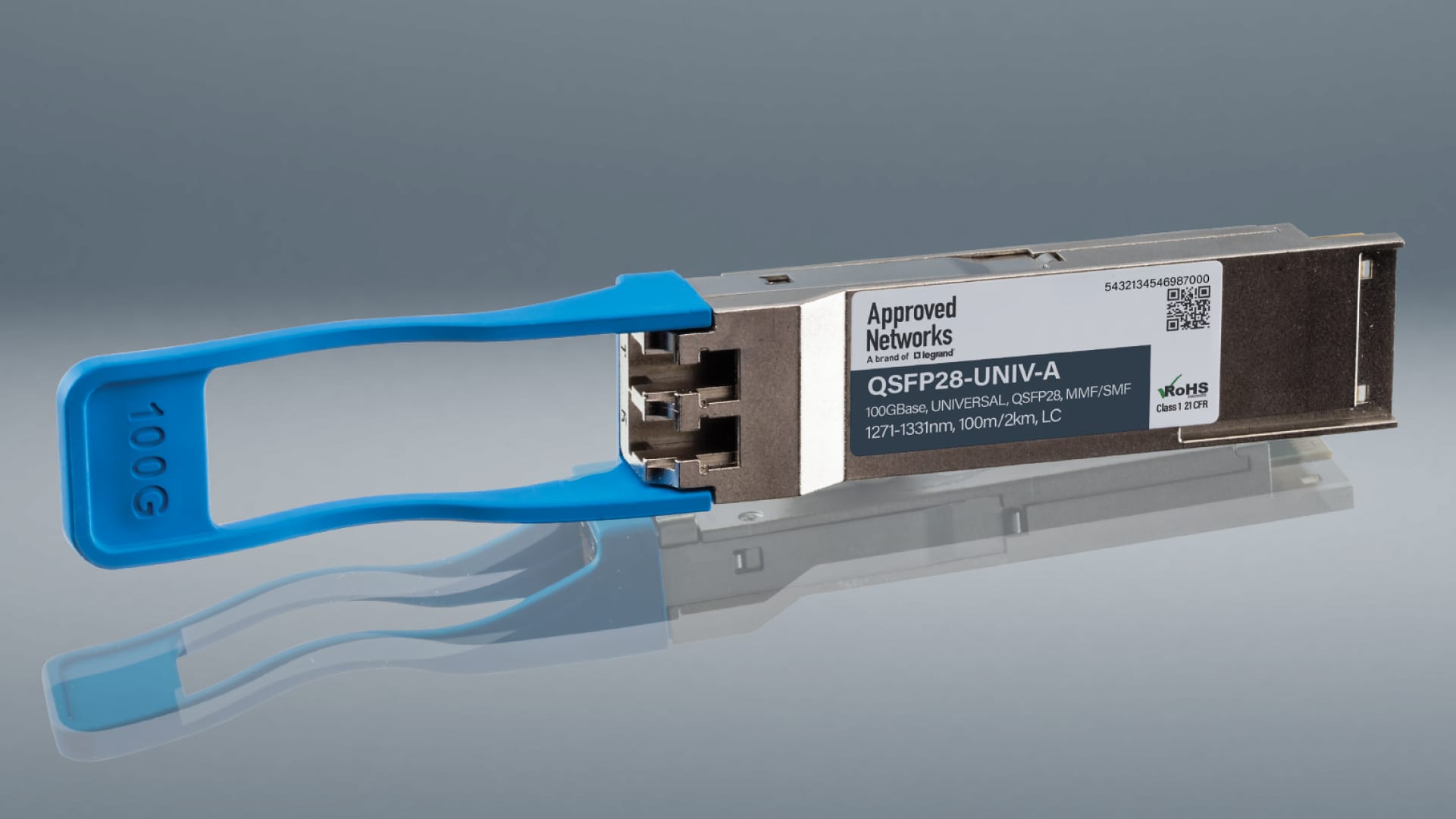 When designing the 100G networking, have you ever spent time determining what fiber type (multi-mode or single-mode) should be deployed in the white space of your data center? Maybe you have even wanted a quick-and-simple approach to select the optical transceiver for 100G networking with less than 2km reach? Would you like to have a simplified inventory for your 100G optics and be able to realize cost savings?
The good news is there are answers to these questions.
Approved Networks is introducing the 100G QSFP28 Universal optical transceiver that can operate over either multi-mode fiber (MMF) or single-mode fiber (SMF), and is designed to help build 100G networking within data centers. Within the white space, approximately 90% of MMF lengths are 100m or less, and the majority of SMF lengths are less than 2km.
The 100G QSFP28 Universal optic is perfect for these situations:
it works in MMF and SMF LC environments in the data center, and in both the brownfield and greenfield locations.
it makes the selection and use of the optical transceiver quicker and easier.
it saves up to 75% costs on multi-mode fiber cabling. See Table 1 below, where the 100G SR4 requires 8 fiber strands, while the 100G QSFP28 Universal requires just 2 fibers, saving money.
it is one unit for both MMF and SMF connectivity, reducing both the cost and complexity of your inventory.
it is a direct alternative to 100GBASE-SR Bidi and SWDM4.
The 100G QSFP28 Univ transceiver differentiates itself from other MMF- or SMF-specific transceivers in these ways:

Table 1: Optical transceivers suitable for 100G networking in the data center.
Beside the data center, the 100G QSFP28 Univ can provide the same value in the workspace building.

Table 2: Applications
When designing your network with the Approved Networks part number QSFP28-UNIV-XX 100G Univ, please make sure to use it on both sides for the fiber connection, especially multi-mode fiber.
You can find more information here.