Posted by Frank Yang on Oct 2, 2023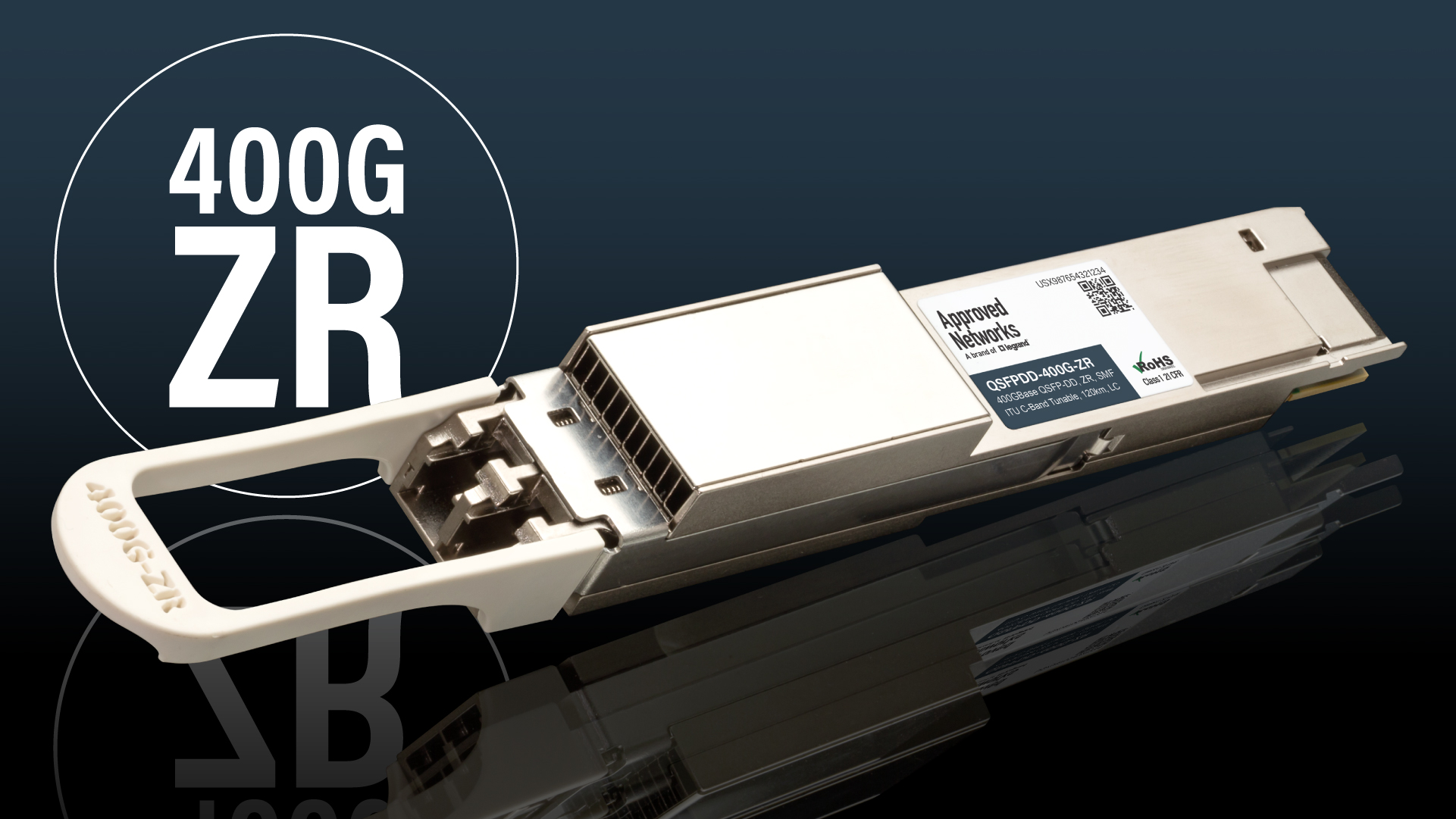 With the emergence of 400G ZR and ZR+ technologies, the data center interconnect (DCI) and metro network market has reached a significant milestone in high-speed connectivity solutions. These solutions cater to the ever-increasing need for ultra-fast and reliable data transfer across DCI, metro areas, and long hauls. The 400G ZR and ZR+ optics bring a new era of overall cost-effectiveness and system-level simplicity to data centers and telco service providers' metro networks.
One of the critical advantages of 400G ZR and ZR+ technologies is their ability to structure various use cases to meet customers' needs and significantly enhance their network capacities while fighting fiber scarcity.
Data center interconnects are crucial in linking multiple data centers within a region, ensuring seamless data transfer and reducing latency. With the adoption of 400G ZR and ZR+ optics, data centers can leverage multiplexed 400G wavelengths, supporting large-scale cloud applications, big data processing, and artificial intelligence workloads with a fresh tool. This improves the overall user experience and empowers businesses with the agility and responsiveness needed to thrive in today's fast-paced digital landscape. For metro networks, which connect various points within a city or metropolitan area, deploying 400G ZR and ZR+ optics brings about significant advantages of flexibility in use cases over the desired distance. These advanced optics enable metro networks to handle the exponential growth in data traffic resulting from the increasing number of internet-connected devices, the proliferation of high-definition content, and the surge in mobile data consumption. As a result, telco service providers can offer superior services to their customers, including faster internet speeds, improved video streaming quality, and more reliable communication.
Moreover, the 400G ZR and ZR+ technologies offer enhanced reach capabilities, enabling data transmission over longer distances with minimal signal degradation. This feature is particularly beneficial for telco service providers, as it allows them to extend their network coverage to previously underserved or remote areas, providing better connectivity options to a broader customer base.
I summarize six use cases in the following table. I categorize them into amplified vs. unamplified and point-to-point vs. multiple wavelengths. This list by no means captures every use case. It covers the essence.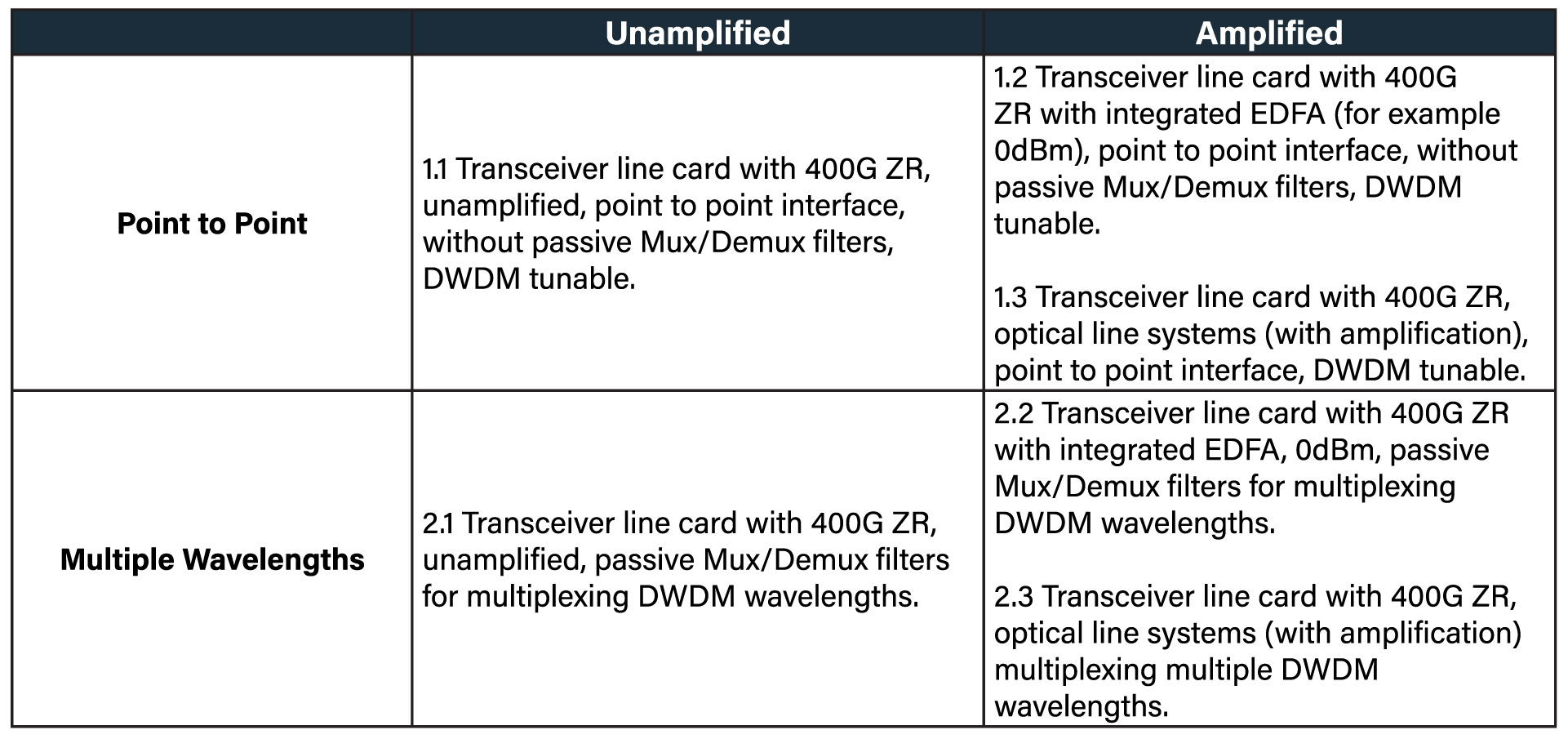 When considering an optical link, it is essential to understand whether it contains amplification, regardless of external or internal amplification. In the use cases with amplification, the OSNR (ratio of signal power to optical noise) will come into play to determine the support distance in addition to the optical link budget1.
OSNR = Pout / PNoise
In other words, the OSNR tolerance specification becomes a limiting factor for the support distance for those use cases with amplification.

Introducing 400G ZR and ZR+ optics marks a new milestone in the evolution of data center interconnect and metro network technologies. With their high-speed capacity, multiplexing capability, and reach, these optics drive unparalleled levels of performance and scalability. By embracing these groundbreaking technologies, data center operators and telco service providers can build robust and future-proof networks that will underpin the continued growth of the digital economy. 400G ZR and ZR+ optics open doors to endless possibilities, transforming how we transfer and consume data and propelling us into a new era of connectivity and communication.
Related Products
400GBASE-ZR Coherent QSFP-DD SMF C-Band Tunable 120km DDM Transceiver
400GBASE-ZR 0dBm Coherent QSFP-DD SMF C-Band Tunable 120km DDM Transceiver
400GBASE-ZR+ 0dBm Coherent QSFP-DD SMF C-Band Tunable 600km DDM Transceiver