Posted by Scott Martin on Oct 9, 2023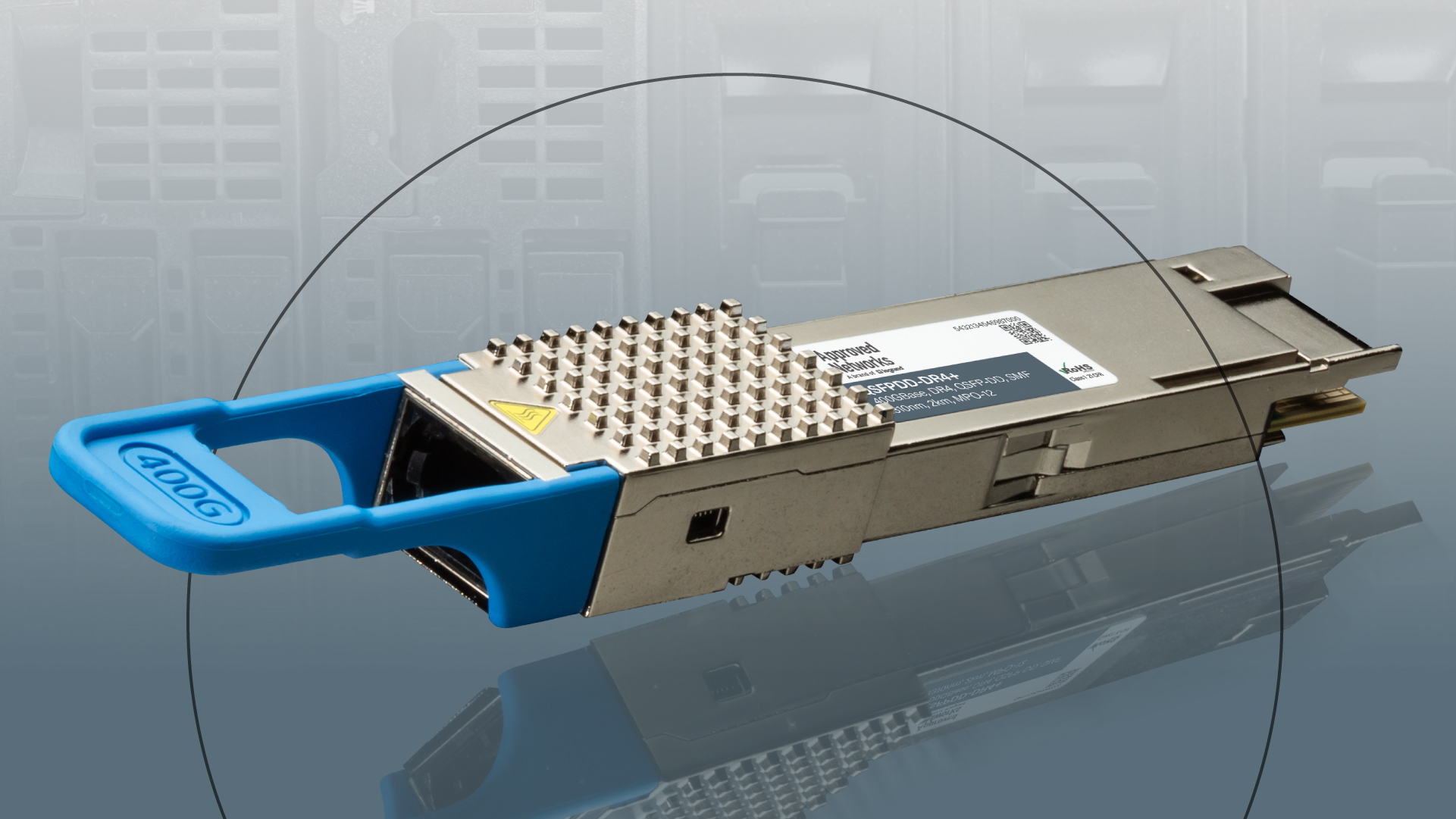 So, you plan a network upgrade soon and are still determining what technologies to use. You may be migrating your core network from 10G or 40G and are looking into other options. Logically, 100G is the right move, as most network equipment that supports 100G will also support 40G and 10G with breakouts. Have you considered 400G? It is now a well-seasoned technology with tens of thousands of ports deployed globally. "Well, I don't need 400G; I would be fine with 100G, and I need to support my existing infrastructure." – This is something we commonly hear. But why leap 400G? Does it make sense? Let's talk nomenclature. QSFP (Quad Small Form Factor Pluggable) is the form factor, and the 'Q' indicates the number of electrical lanes supported. Most are familiar with QSFP+ (four lanes of 10G, giving you 40G), QSFP28 (four lanes of 25G, giving you 100G), and QSFP56 (four lanes of 50G or 200G). So what about QSFP-DD? Instead of 4 electrical lanes, you have eight electrical lanes, hence the DD. The good news is that with the QSFP-DD systems, you can, in most equipment, support the following speeds in a fixed configuration L3 switch and chassis-based systems.
400G <-> 400G

Several options are available, ranging from DAC: Direct Attach Copper for short distances. AOC: Active Optical Cables for longer reach with optical cabling and transceivers combined into a single package. Optical Transceivers: from multimode options for intra-datacenter to long-range optics utilizing either MPO/MPT connectors or, in some cases, single duplex LC, ensuring you can use your existing cabling plant.

200G <-> 200G

Same as above, utilizing QSFP56 technology

100G <-> 100G

Same as above, utilizing QSFP28 technology

40G <-> 40G

Same as above, utilizing QSFP+ technology
How about breakout options?
400G

Breakout to 4 X 100G optical interfaces using a fiber cassette or MPO -> 4 X LC breakout. Of course, you will need the correct corresponding single lambda 100G transceivers.
Breakout to 4 X 100G utilizing DAC or AOC cabling
Breakout to 8 X 50G or 8 X 25G with DAC or AOC cabling, or in some cases with optical transceivers when using MPO -> 8 X LC breakout cabling

200G

Breakout to 2 X 100G
Breakout to 4 X 50G
Breakout to 8 X 25G

100G

Breakout to 2 X 50G
Breakout to 4 X 25G

40G
The above list is incomplete; there may be other options that will fit your needs! What about top-of-rack switches or middle-of-rack switches? As computing power increases, sometimes more than n X 10G NICs may be needed for today's computing demands, with virtualization, Big Data, and AI taking hold across the enterprise and data center. An all 400G port fixed configuration may make sense for servers that support 25G or 50G NICs. If Legacy equipment needs to be supported in the same server rack, perhaps a fixed configuration SFP28/56 switch with 400G uplinks may make sense – many will support 1G, 10G, 25G, and 50G at the server level. OK, so why 400G, and things to consider--
400G technology is seasoned, and prices have dropped considerably on the equation's networking equipment and transceiver sides. New long-range options are coming to market if single LC connections are required.
As outlined above, QSFP-DD technology allows for a great range of connectivity options without having to forklift upgrade your entire network plant.
100G, while trusted and proven for over a decade, is getting long in the tooth.
Check with your manufacturer of choice, and make sure that whatever equipment you are purchasing will not be end-of-sales soon, and make sure you will get support for as long as you plan to operate the equipment. Sometimes, the prices for 100G switches look appealing, but can you obtain support for 3-5+ years?
Ensure that all the speed options outlined above are supported if you purchase QSFP-DD equipment.
If long range is needed (> 10km), ensure that your vendor of choice supports switch side FEC (Forward Error Correction).
Related Products
400GBASE QSFP-DD Passive DAC Cable (QSFP-DD to QSFP-DD)
400G QSFP-DD Active Optical Cable (AOC)
400GBASE-ZR+ 0dBm Coherent QSFP-DD SMF C-Band Tunable 600km DDM Transceiver