Posted by Larry Legg on Dec 2, 2022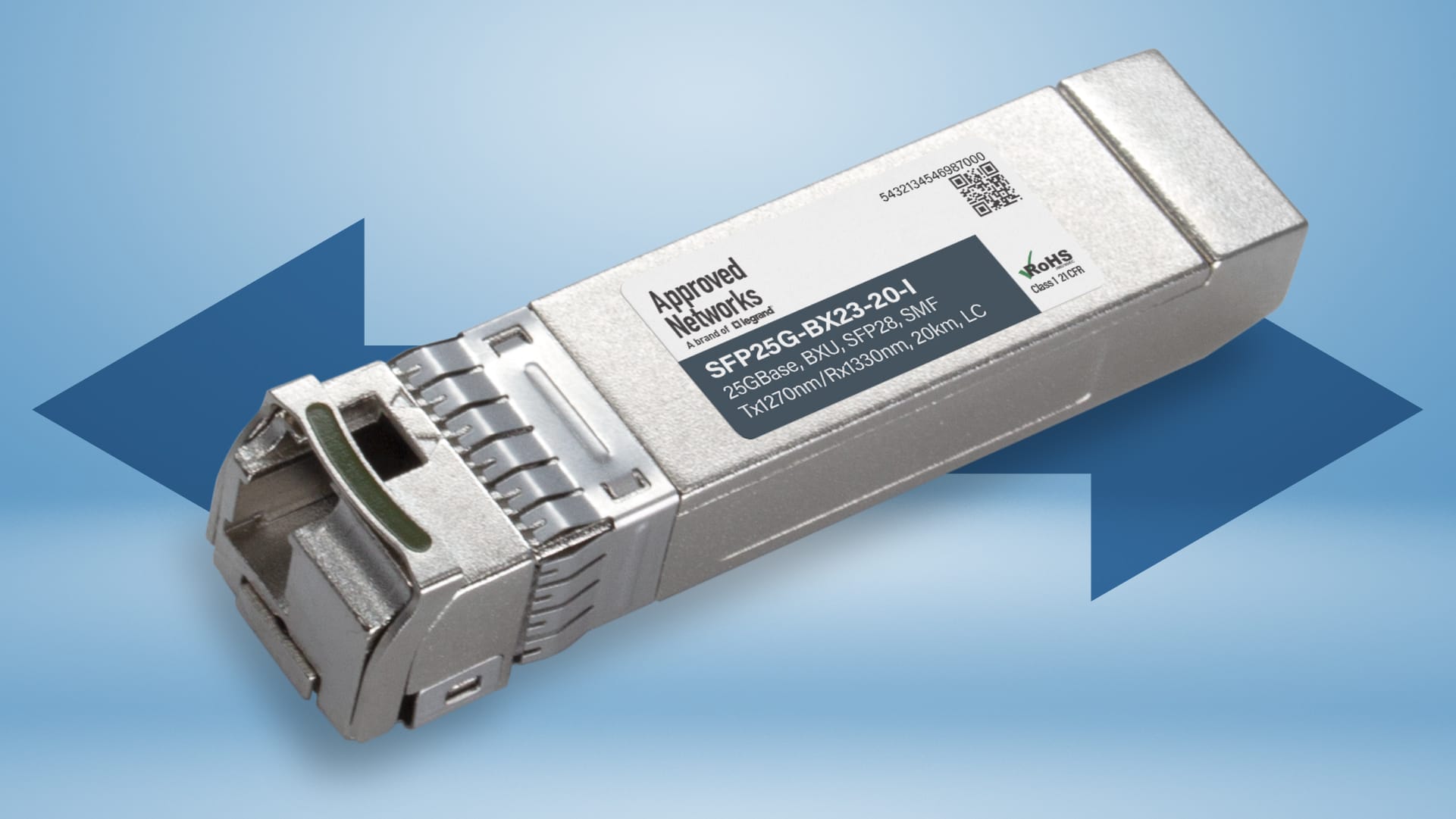 This is part of an ongoing series with Larry Legg, Senior Product Design Engineer at Approved Networks, a brand of Legrand.
Question: I've read a few blog posts about 25G and BiDi – what are the pros and cons?
Larry Legg says:
"That's a good question because each combination of fiber optic networking has upsides and downsides that will affect your network.
25G optics are one option in a fiber network, offering reduced complexity. They do this by sharing common Small Form-Factor Pluggable footprints. This saves cost while improving density.
A 25G Bi-Directional, or BiDi, uses one port with two optical signals of different wavelengths to transmit and receive signals over a single strand fiber. And this saves fiber resources.
One benefit of BiDi is it allows full use of that one strand by effectively doubling your network capacity with the same fiber count, since it's used to carry information in both directions. If you have a six-strand cable you would be able to use all six strands rather than three for one direction and three for the other. This means you can use fewer patch cords and patch panel ports, and decrease the amount of space dedicated to fiber management. With that brings more savings.
Like traditional transceivers, deploy BiDis in matched pairs, and use two modules: one for the upstream and the other for the downstream. Each part transmits at an opposite wavelength.
Examples where BiDi modules are best utilized include P2P (point-to-point) connections, Digital Video, and Closed-Circuit Television (CCTV) applications. BiDis can go on servers, switches, and routers to provide high speed and stability in shorter distance systems.
5G networks like 25G/50G BiDis as they can save fiber resources and support the high bandwidth data transmissions. See Frank Yang's recent article on 5G radio access network (RAN).
And that's the key to the advantages of BiDi: shorter data transmissions. They are great if they stay within the building, within a data center, on a cell tower. Or from building-to-building and data centers in short distances.
In many longer distance situations, though, BiDis are a kind of band-aid, a short-term fix. This is because as fiber needs grow, BiDis can't keep up with expanding bandwidth needs. They are good for in-house deployment, not maxing out capacity for devices, not using great bandwidth and will not have a lot of users.
BiDi in a building is okay, but not always the most conducive for bandwidth growth from tower to tower.
BiDis are great for what they do, but often passives are better long-term solutions for multiple Ethernet links residing on the same fiber. This is because as needs grow, your fiber network becomes bandwidth intensive than a single Ethernet link. In this situation, BiDi can't keep up.
A choice for this would be a passive Mux/Demux solution, using a Mux/Demux filter combo to exponentially increase the number of possible new services (readily available in up to 40 services using DWDM, and 8 services using CWDM). This is a huge advantage as it doesn't require any power for the multiplexers!
While this also enables you to use standard (dual fiber) transceivers, the higher loss shortens the distance between locations. (It's really not Voodoo!)
A single fiber passive solution in Point-to-Point configuration uses 2 wavelengths of WDM per service. This is how you can maximize the number of services using standard dual fiber transceivers on a single fiber strand. This method uses adjacent channel wavelengths to transmit and receive. The advantage of this is it can be used for either CWDM or DWDM network designs. It does not require specialized transceivers because NRZ transceivers generally use non-wavelength receivers.
In this case, standard dual fiber CWDM or DWDM transceivers will work when matched to the appropriate passive multiplexer. This can add up to 8 (CWDM) or 40 (DWDM) services and can span distances of up to 80km (i.e., the rated distance of the optical transceiver).
CWDM Example:

DWDM Example:

Here's an example of a short distance 40 channel high-capacity intra-datacenter cross-connect monthly charge economizer:

The adage "One size does not fit all" applies. If you have a simple set-up in a single location, BiDi could be a great choice. But once you start contemplating complexity – and a metro area or long-haul topology dictates your system distance – a single fiber DWDM might be a better direction instead."
Related Products
25GBASE-BX10-U BiDi SFP28 SMF 1270nm-TX/1330nm-RX 10km DDM Transceiver
10/25GBASE-BX20-D BiDi SFP28 Dual Rate SMF 1330nm-TX/1270nm-RX 20km DDM Transceiver
25GBASE-BX40-U BiDi SFP28 SMF 1270nm-TX/1330nm-RX 40km DDM Transceiver